Legend of Crimson

WHAT: Following May's highly-anticipated Crunchyroll "Movie Night showing of "Saga of Tanya the Evil – the Movie -" and the partnership that brought the theatrical premiere of "Mob Psycho 100 II" and the "Yuri!!! on ICE" marathon event to cinemas nationwide, Crunchyroll and Fathom Events proudly announce the next Crunchyroll Movie Night: "KONOSUBA -God's blessing on this wonderful world!- Legend of Crimson." Initially released to critical acclaim in Japan in August, Crunchyroll Movie Night will be the first opportunity for U.S. fans to catch "KONOSUBA -God's blessing on this wonderful world!- Legend of Crimson." In addition to the full feature, fans will view an exclusive interview with Jun Fukushima (voice actor of Kazuma) and Rie Takahashi (voice actor of Megumin) that gives an exciting behind-the-scenes look at the new film.
WHO: The world's most popular anime brand, Crunchyroll, and Fathom Events.
WHEN: Tuesday, November 12 and Thursday, November 14 at 7:00 p.m. local time (subtitled in English).
WHERE: Tickets for the November 12 "KONOSUBA -God's blessing on this wonderful world!- Legend of Crimson" can be purchased online by visiting www.FathomEvents.com, or at participating theater box offices. Tickets for November 14 will be available beginning Friday, October 18. A complete list of theater locations is available on the Fathom Events website (theaters and participants are subject to change).
SYNOPSIS: A video game-loving shut-in, Satou Kazuma's life should've ended when he was hit by a truck, but through a twist of fate, he ends up reincarnating in another world–and dragging the troublemaking goddess, Aqua, the wildly dorky mage, Megumin, and the unrelentingly delusional lady knight, Darkness, with him. Now, the Crimson Demon village that Megumin and Yunyun are from is facing a threat that could mean its ending. Kazuma and his gang follow Yunyun, who returns to the Crimson Demon village intent on saving it… when they are faced with their greatest threat yet! What will become of the unremarkable adventurer Kazuma's life in another world?!
MORE: "Crunchyroll Movie Nights are a powerful way for anime fans to connect with other fans in the Crunchyroll community," said Mary Franklin, head of events, Crunchyroll. In celebration of the film's launch, Crunchyroll is also releasing an exclusive "Konosuba" capsule collection from Crunchyroll Loves, the brand's in house streetwear line, featuring six items, including a special tee with artwork from the upcoming film. The collection will drop early November only on the Crunchyroll Store. Crunchyroll Digital Drops, a new app from Crunchyroll, is also launching exclusive sticker collections to celebrate the film. The app can be found at https://bitly.com/2kFmrPC. Fans should also stay tuned for additional limited edition Digital Drops stickers and an in-theater giveaway.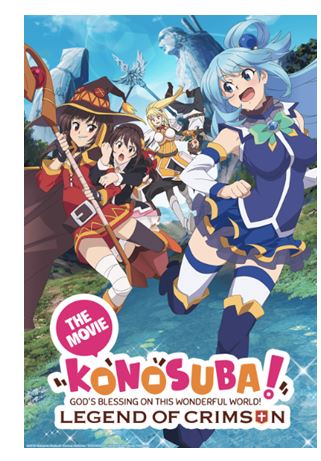 View the event trailer here.https://youtu.be/pWgXprHDKTQ
ASSETS: For artwork/photos, visit the Fathom Events press site. MEDIA
CONTACTS:
Katherine Schwappach / [email protected] / 720-262-2713Erik Stein / [email protected] / 818-761- 4645Bianca Doria / [email protected] / 707-673-7165